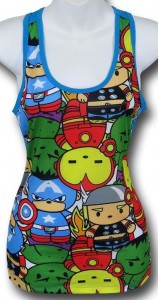 Featured on this tank top is a very cute and adorable mini versions of the big four, find Marvel Avengers Iron Man, Thor, Incredible Hulk and Captain America all as mini round heroes in full superhero suits with awesome details and vibrant colors covering the tank top fully with multiple little fun Marvel Anegers.
This officially licensed Marvel Avengers tank top is available in a wide variety of women's slim fitted sizes that range from Small to XL and it is made to be super comfortable and very durable to last a long time… Now that is exactly what a supehero would need.
Enjoy the nice weather or a good workout in the Marvel Avengers Mini Superheroes Women's Tank top.