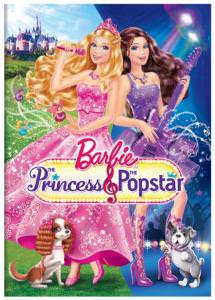 The classic stories of Barbie are here with a really fun, stylish and sparkling musical adventure movie, The Princess and the Popstar.
This is a movie about a Princess named Tori who is kind hearted but she would rather sing and dance than perform her all important royal duties. One day she meets a pop star named Keira when she visits the kingdom, they discover that they have a magical power to look like each other.
When they transform and start living each others life they find out that it is much harder to live the other girls life and that in the end the best thing you can be is yourself.
This is on DVD format and is very fun for the Barbie fan, it is filled with exiciting fun musical songs and meet many new friends along the journey's of Princess Tori and the pop star Keira.
Take a closer look at the movie Barbie The Princess And The Popstar DVD.