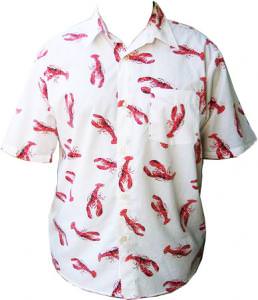 Cosmo Kramer …… one of the most classic characters on Seinfeld and maybe one of the most rememerable in television history.
This is one of many cool and fun shirts that Kramer has been seen wearing during the comedy television series of Seinfeld, it features multiple red lobsters all over it front to back and is a collared button-up style.
Available in standard fit sizes from Medium to 2XLarge.
Perfect for any occasion maybe as a halloween costume or even if you have to dress up a little this collared button-up t-shirt will look awesome.
Check out this Seinfeld Kramer Lobster Button-Up T-Shirt.