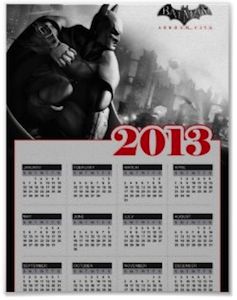 Start 2013 with the calendar you always wanted.
This 2013 wall calendar is not a calendar with a different page for each month. No this is a poster calendar from Batman Arkham City.
It shows a nice graphic of Batman looking out over the city and then below that you see all the months of 2013.
And this poster calendar is availible in wide selection of sizes from 4 x6 inch to 40 x 60 inch.
So if you want a Batman calendar that stands out then you have to see this Batman Poster Calendar.
You may also like: