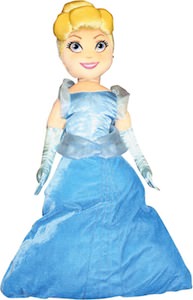 This Disney pillow is shaped like Princess Cinderella and that makes it great to play with and of course cuddle with.
The Cinderella pillow has all the important looks like the real Princess Cinderella but this one is soft and loves to cuddle.
At 14 x 22 inch the pillow is the perfect sizes for play and sleep.
Come and make your kids happy with this plush Princess Cinderella Pillow.