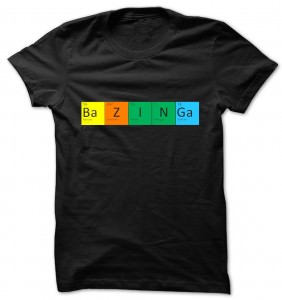 What do you get when you combine Barium, Zuunium, Iodine, Nitrogen and Gallium?
Well first off, yes Zuunium is not real which means you probably know that these elements put together spell "BAZINGA" which is what is on this t-shirt each letter looking like it does on the periodic table.
Bazinga is a popular line that Dr. Sheldon Cooper on the hit television show The Big Bang Theory uses all the time when he feels he had made a joke or used sarcasm.
This Big Bang Theory t-shirt is made from 100% cotton which will give you a durable shirt aswell as soft and comfy, it is available in a wide variety of sizes that range from Small to 3XL and comes in a black or red t-shirt color.
You can also get this funny Bazinga shirt in different styles like hoodies and women's fitted aswell as the print on the front or back.
Have some fun with this The Big Bang Theory Bazinga Elements T-Shirt.