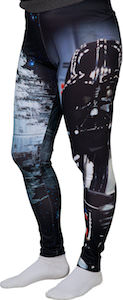 Guys Beware!!! Women will make your head turn when they are wearing these sexy Darth Vader Death Star leggings.
These awesome black Star Wars leggings features the evil Lord Vader on the one leg and the famous Death Star on the other leg.
The Star Wars Vader Death Star leggings are super soft for a comfortable wear. For people that always cut the tag of their clothes these leggings are tagless. Also they come in sizes from X-Small to 2XL.
Feel the power of the dark side as you get peoples attention when you wear these cool Star Wars Star Darth Vader Leggings.