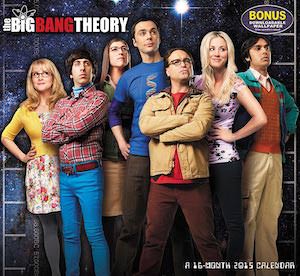 Now you an enjoy The Big Bang Theory a whole year long with this fun wall calendar.
This 2015 calendar of course offers a great calendar grid because you need to take notes about important things that you like to share with your friends and roommates.
And besides that there are amazingly fun pictures of the main cast of The Big Bang Theory. Of course there is Penny, Sheldon, Leonard, Howard and Raj but Bernadette and Amy are also their to enjoy.
And as we geeks not always watch the wall they give you a free downloadable wall paper for the computer or mobile devices so that we get reminded to watch that fun 2015 calendar.
So lets make room on the wall for your The Big Bang Theory 2015 Wall Calendar.
You may also like: