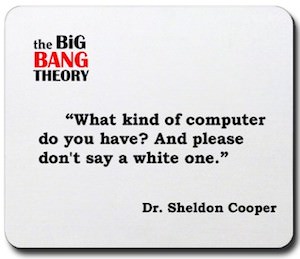 Are you a fan of the #1 comedy television show " The Big Bang theory" ?
Well, if your looking for a new mousepad for you work office or home you will love this Big Bang Theory mousepad at your computer.
This coolT he Big Bang Theory mouse pad has one of Dr. Sheldon Coopers Quotes from the show saying " What kind of computer do your have? And please don't say a white one." in the middle of the mouse pad. Also in the top corner it says The Big Bang Theory and in the bottom corner is says Dr. Sheldon Cooper.
It is a high quality mouse pad with a nonslip rubber backing prevents mousepad from sliding and is optical friendly for improved tracking.
Have a laugh at your desk when you look at this cool The Big Bang Theory Sheldon Cooper Quote Mousepad.