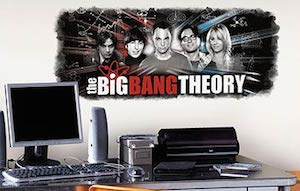 Are you a fan of the number one hit comedy television show " The Big Bang Theory " ? If so you can hang out with the whole gang everyday with this Big Bang Theory wall decal.
Well, you will sure have a laugh every day when you see your The Big Bang Theory wall decal on your wall when you think about all your favorite funny memories from television series.
This Big Bang Theory decal features the whole gangs photos, Penny, Leonard, Sheldon, Howard and Raj with the logo " The Big Bang Theory " right under their photos.
Measuring 39 inches wide x 16 1/2 inches tall. It would be perfect to peel and stick on the wall of your home or work office or on any wall you want really the options are unlimited.
You will smile when you see this The Big Bang Theory Wall Decal.