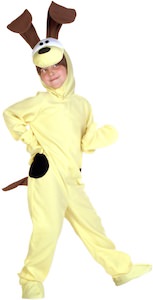 Have you found the perfect costume for your child yet?
Well, look no further cause this adorable Odie costume will be perfect for your child to wear out trick or treating or treating.
This cute Odie costume that looks just like Odie from the Garfield television shows and the movies. It is a full piece jumpsuit with mitts attaches, it has brown spots on each of his sides, a brown fleece tail, shoe covers that look like his feet, and a head piece that has Odies big floppy ears and his big eyes that does up with Velcro under the chin.
The Odie costume is available in kids sizes from Small (6), Medium (8-10), Large (12-14), and X-Large (16-18).
Watch out Garfield might get you in trouble while wearing this cute Odie kids Costume.