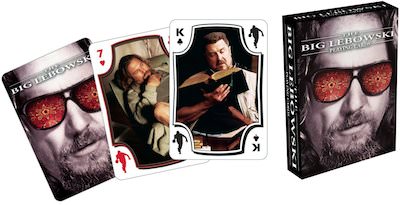 Fans of The Big Lebowski are gone enjoy this product.
It's a deck of playing cards based on the movie. The back of these playing card shows the Dude wearing glasses of witch the lenses seem to show the famous carpet. On the other side (the playing side) you will find a picture based on the movie. And this deck has 52 cards and each card has a different picture from the Big Lebowski movie.
If you like to play poker like the Dude or just a different card game, this set of playing card can be perfect for you.
Now is the time to start thinking of you next playing card and maybe then can be these The Big Lebowski Playing Cards.