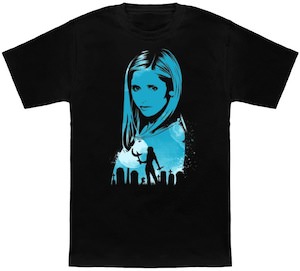 Buffy the Vampire Slayer is of course the slayer of all slayers and we should never forget that.
This 100% cotton t-shirt is perfect for doing some vampire slavering yourself.
And on this black t-shirt  you can see in light blue a portrait of Buffy and in the portrait you can see a graveyard with a full moon and yes Buffy the Vampire slayer ready for action.
This Buffy t-shirt is available in a men and women's version witch both come in a wide selection of sizes.
Never forget the true vampire slayer and that is why this Buffy t-shirt is so perfect.
Come have a closer look at this Buffy The Vampire Slayer The Chosen One T-Shirt.