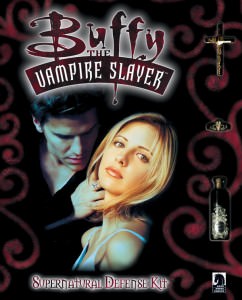 Every Buffy The Vampire Slayer fan knows what this is, and wants this for their collection.
This is a book that is a deluxe hardcover of a cool Buffy adventure which is an expansion of "The Final Cut", the book is about an 80% of comic book size and is really well detailed with thread-sewn binding and a fine matte artpaper stock.
Included in this keepsake package is actual elements from the story and can be seen through die-cut windows, find a custom-crafted slipcase, Buffy"s trademark gold-colored cross, the traditional "Claddagh" ring, and a glass vial of "holy" water with silver flakes in the fluid.
Collect this Buffy the Vampire Slayer Supernatural Defense Kit.