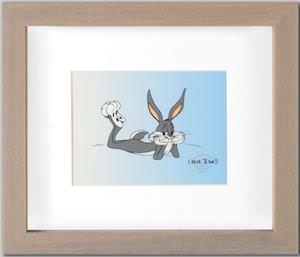 Now you can own a Chuck Jones print of Bugs Bunny.
And Chuck Jones is the cartoon artist that made Bugs Bunny happen so this is a really special item.
This is a framed sericel on witch you can see Bugs Bunny lying down in one of those famous poses we all remember from Bugs.
And this sericel of Bugs Bunny comes framed and comes with a certificate of authenticity.
Of course a item like this is only made in limited quantities so if you are looking for an original piece of art then this Bugs Bunny can be it.
For the framing only acid free and archival materials where used so that Bugs Bunny will stay in perfect shape for many years to come.
Come have a closer look at this special Bug Bunny Framed Sericel Print By Chuck Jones.