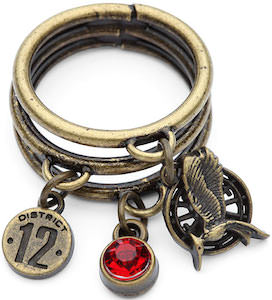 If you are looking for some special Hunger Game jewelry then you are in luck.
This Hunger Games ring looks real special.
The ring has 3 connected bands and each band has a little charm.
Your ring will have a charms for District 12, Mockingjay and a red stone.
And this Hunger Games ring is an officially licensed product and at least tells you it will look like it should.
The ring has a brass tone and that adds to the experience.
It doesn't matter if you are looking for a ring for a loved one or just want to spoil yourself you just have to see this The Hunger Games 3 Band Charm Ring.