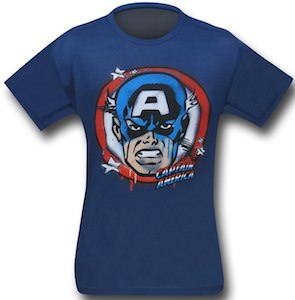 This blue men's t-shirt shows Captain America but not in the way we know it.
The graphics on this t-shirt look like they are airbrushed on the shirt and it the wet paint even dripped a bit.
But that said this style is different and really make Captain America stand out on this shirt.
In the background you can see the shield of Captain America with some stars and the words "Captain America" and on top of the shield you can find the head of Captain America with the big A on his forehead.
You can get this Captain America t-shirt in sizes Small – 2XL and all look as special as this one.
Come take a closer look at this Captain America Painted Face T-Shirt.