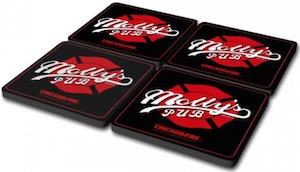 Do you always have round circle stains on your kitchen tables, coffee tables or other surfaces of your house from everyone laying there drinks everywhere.
Well, if you love the television drama series Chicago Fire your can use these cool Molly's Pub Coasters to help prevent those wet circles your always wiping up after everyone.
These black Chicago Fire Molly's Pub set of four coasters features the logo of Molly's pub with a red fire department logo in the background and Molly's pub written on top. Also written under the logo is Chicago Fire.
They are 3.75″ x 3.75″ in size and made with hardboard with cork bottom. Perfect for any home bar for you to enjoy with friends and family.
Pretend you are having a good time at Molly's pub with friends when you use these cool looking Chicago Fire Molly's Pub Coasters.