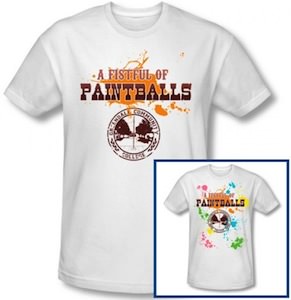 If you are a big Community fan then this t-shirt will be fun for you.
As you can see above the t-shirt shows the Greendale Community College logo and above that the words "A Fistful of Painballs" it looks a bit boring but still a nice Community t-shirt. And it is based on episode 23 of season 2 witch was called "A Fistful of Paintballs".
But when this t-shirt gets exposed to sunlight something happens, colorful paint splaches will show up just like you are shot by a paintball.
You have to admit that this sounds really neat.
And this Community t-shirt comes in sizes Small to 2XL.
So get ready for imaginary paintball by wearing this Community Fistful Of Paintballs T-Shirt.