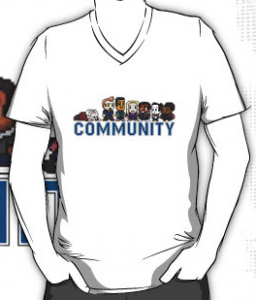 Do you love the TV show Community, you know the one with all the classic characters that go to Greendale Community College.
This is a t-shirt that features the 7 main characters that are all part of the study group, find Pierce, Jeff, Abed, Britta, Troy, Annie and Shirely all in a row and are as 8 bits characters.
A very comf and durable t-shirt that is made from 100% cotton and is available in a huge variety of sizes and colors, also check out the different styles of shirts like organic, womens fit, hoodies and more you can get this Community 8 bits characters print on.
Take a closer look at the Community 8 Bits Character T-Shirt.