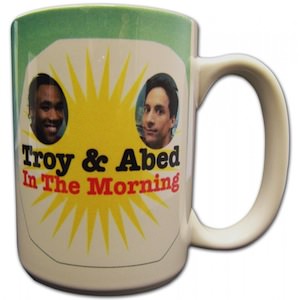 Remember that episode of Community where Troy & Abed play morning TV hosts?
This is from that episode in season 1.
And now you can have the mug to get reminded about that all the time when you drink you coffee in the morning.
This Community mug is 15oz and that give you plenty of space to store that coffee.
A mug with pictures of Abed and Troy on it may not be what most people want to drink their coffee out but a true Community fan wants that for sure.
So don't wait till it's to late come and order your Community Troy & Abed In The Morning Mug.