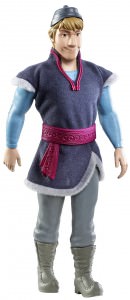 If your favorite character from the hit Disney movie Frozen is Kristoff, then this Kristoff doll is the perfect addition to your collection.
Any child would be thrilled to received and play with Princess Anna's courageous friend Kristoff.
Kristoff comes in his traditional mountain man ensemble with his bright blue shirt, warm grey pants, knee-high boots that curl up at the toe, warm cap and fur-trimmed vest tied with a burgundy sash.
Whether Kristoff is in the ice fields harvesting ice with Sven or in town with Princess Anna, he will always look his best in this outfit.
Be sure to take a closer look at this Disney Frozen Kristoff Doll.