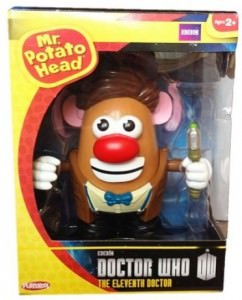 The classic Mr. Potato Head has come in contact with a time warp of Doctor Who, all of a sudden our childhood play toy is a super cool Doctor from the sci-fi series Doctor Who.
This is a regular Mr. Potato head that has all of the attributes of the eleventh doctor, find the hair and hat, suit with blue bow tie aswell as the doctor holding the sonic screwdriver.
Standing six inches tall this Doctor Who Mr. Potato Head is compatible to mix and match with any classic Mr. Potato Head figures and characters, you can play or collect as it does come in a great collectors windows box packaging.
Collect the Doctor Who Eleventh Doctor Mr. Potato Head.