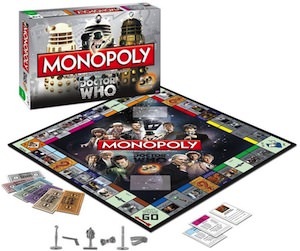 Board games are fun to play at dark cold nights and what better game to play then Monopoly.
And now Monopoly become even better with this Doctor Who version.
Now you can find all kind of details from your favorite Doctor back in this game.
The pewter pieces are special of course there is a bow tie, sonic screwdriver, scarf and more.
And as a good special edition Monopoly this game has special Doctor Who streets and even Doctor Who money.
Get ready for a night of fun and games and it start with buying the Doctor Who Monopoly.