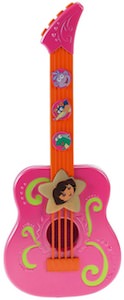 Kids love music and it is important for their growth to try it.
And now your kids will be so happy with this Dora The Explorer toy guitar.
This guitar is made by Fisher-Price and is completly Dora themed with big buttons with picture of Dora and her friends.
Of course you can make music with this guitar just like a real one and this one can do more when your press the buttons.
And when you play the Dora button will light up so it extra fun in the dark.
Dora want to play with you with this Fisher-Price Dora the Explorer Guitar.