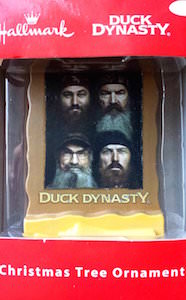 Do you have some bearded men hanging in your Christmas tree?
If not then you surely do not own this Christmas tree ornament yet because this Duck Dynasty ornament brings those bearded men to your tree.
This Christmas ornament from Hallmark shows Willie, Phil, Si and Jase Roberson in a frame style ornament that also says "Duck Dynasty" and on the back this ornament says "Faith, Family and Facial Hair".
And even after Christmas this ornament is fun so you can hanging it in your room or maybe even on your cars mirror just to show the world how much you like Duck Dynasty.
Get ready for Christmas now with this Duck Dynasty Bearded Men Christmas Tree Ornament.