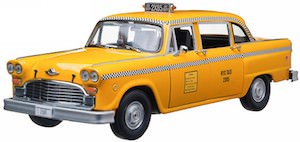 We all know the yellow taxi that Phoebe drove after the passing of Frances.
Many crazy adventures happened thanks to this yellow cab.
And now you as true Friends fan can own a model of this famous car.
And you don't have to worry it's only a scale model so the ashes of Frances are not in this vehicle.
The model made by Greenlight Collectibles is at a scale of 1:18 and has amazing details. You can open doors and even look under the hood of this 1977 checker taxi cab.
Just imagine this yellow car standing in your home while you dream away to think of all those adventures Phoebe and her Friends had in this car.
Come and take a closer look at this Friends Phoebe's Taxi Cab Scale Model.