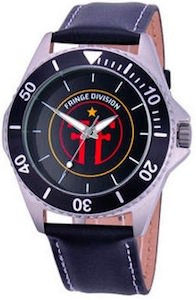 A fan of Fringe will love this watch.
This watch is made from stainless steel and has a real leather strap. The Japanese clock will keep the time for you while you enjoy the design.
The watch face shows the Fringe logo and the words "Fringe Division" and that makes it all worth it.
And the design doesn't scream Fringe and that makes this watch perfect for any situation.
It doesn't matter if you wear this watch with a suite or shorts it will just be the perfect watch for you.
Keep track of time because you never know what happens but wearing this Fringe watch will help you keep you bearings.
Come have a better look at this Fringe Division Logo Watch.