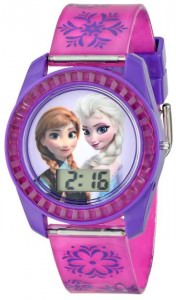 How many times has your child said "how long until" or "when will … happen"?
Now you can start to teach your child how to keep track of time in a very fun way with this beautiful Anna and Elsa wristwatch.
This LCD digital watch features the images of the sisters, Anna and Elsa, from the hit movie Frozen, on the round face of the watch.
The plastic watch and band are in two shades of princess purple, with snowflakes on the band and it has a buckle closure. The case is 35 mm wide and the band 18 mm wide.
Your child will love this fashionable watch.
Have a closer look at this Frozen Anna and Elsa Kids Digital Watch.