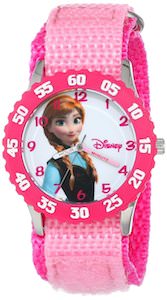 Do your kids have a hard time to tell time? If so this cute Frozen Anna watch will be perfect for your little girl to tell the time and come home on time when playing outside or at a friends house playing.
This pink frozen Anna watch show a picture of pretty Anna from the waist up  and Disney written next to her right in the middle of the watch. On the two hands one says hour with the numbers on the inside and the other says minute with the minutes on the outer rim in the middle to help your child tell the time a little easier.
It as a pink two toned nylon band, a hook-and-loop closure and is water resistant so it can withstands rain and splashes of water but not a swim in the bathtub.
Teach your little girl how to tell time and get her this cool Frozen Anna Time Teacher Watch.