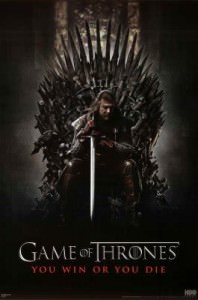 The awesome TV series Game of Thrones has made fans out of all of us, this is a poster that the Game of Thrones fanatic will definetely need to have.
This poster features the HBO TV series advertisement for Game of Thrones, find the official text "GAME OF THRONES" along with "YOU WIN OR YOU DIE", also there is a high quality image of the iron throne that all the families are fighting to rule and find Eddard Stark Lord of Winterfell and Warden of the North.
Measures 24 inches x 36 inches (60.96 x 91.44 cms) unframed and is available unframed or in many different style and colors of frames also check out the choices of print style.
Decorate your kingdom with Game of Thrones You Win or You Die Poster.