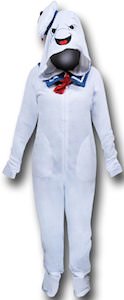 It there's something strange in your neighbour hood.  Who you going to call Ghostbusters.
Bring back your childhood memories from the 1984 film Ghostbusters and get your very own Stay Puft Marshmallow man suit.
It can be for this years Halloween costume or you can wear the suit as a pair of  pajamas.
This  marshmallow man suit comes in sizes M – XXL.
To make it easy to put on and take off. It as has thumb holes in the hands with a zipper up the center and zip off at the feet.
Have fun at your next Halloween party or to just dress up when you take your kids trick or treating in this Ghostbusters Stay Puft Marshmallow Suit.