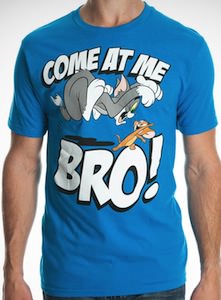 We all know that Tom and Jerry are secretly good friends but of course they are cat and mouse and they can't show that they are bro's.
This blue t-shirt shows once again how playfull Tom and Jerry are. The picture makes you believe that Jerry is making Tom jump the way he wants him to jump. And besides the graphics the shirt also says "Come at me bro!" making it cleared that they are just friends.
This Tom and Jerry t-shirt is availible in a range of adult sizes and will look good any time of year.
Come and check out this Tom And Jerry Come At Me Bro T-Shirt.