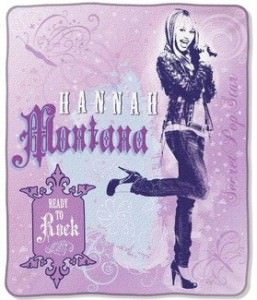 Hannah Montana is always ready to rock, but when she is tired i think she would curl up with this cool Hannah Montana blanket and get a little bit of rest.
This is a blanket that features a large image of Hannah Montana holding a microphone singing and lots of great designs surround her, aswell as some sayings "Ready to Rock" and "Secret Pop Star".
Measures 60″ H x 50″ W, this is a blanket like Hannah Montana that is Super everything, Super soft, warm, decorative and plush.
Get your Hannah Montana Blanket.