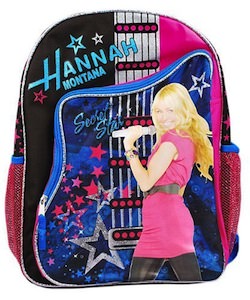 Need a new amazing looking backpack?
This Hannah Montana backpack can be the backpack you where always looking for.
As you can see on the picture this backpack has a log of glitter and starts and the words "Hannah Montana" on it but there is more.
It is also looking like it is part of a guitar and of course then there is Hannah Montana her self printed on it to.
That is all the fancy stuff. It of course is also just a nice backpack with a large pocket and a small front pocket and two mess side pockets.
All in all a great bag for everyday use at school or just for your other times.
Come and check out this Hannah Montana Guitar Backpack.