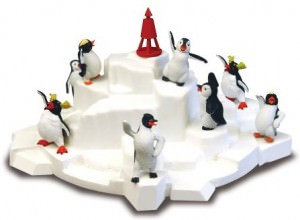 Happy Feet the fun and cool animated movie brings you a fun and cool game, Happy Feet Mumble's Tumble Game.
This game has a large ice berg and the purpose is to get all of your penguin characters to stand on the iceberg with out tumbling over and sliding off the rocking iceberg before any one else. There are 4 penguin characters Mumble, Lovelace, Gloria and Ramon , each having 5 duplicates. These penguis are awsomely detailed and sculpted out to look just like they do in the movie Happy Feet.
Get your Happy Feet Mumble's Tumble Game.