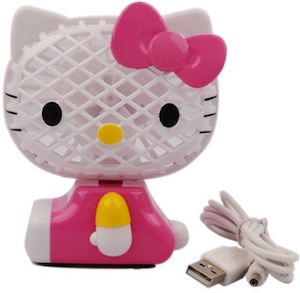 Hot summers are nice but when you try to work behind you desk doing homework or maybe office work it is not fun at all and for those times this Hello Kitty fan will be great.
The Hello Kitty desk fan comes in blue and purple and of course is in the shape of Hello Kitty with the face of Hello Kitty Being the fan.
To power the fan you can use 3 AAA batteries or use that included USB cable and connect it to your computer or USB hub.
Hello Kitty loves to part of you desk and if you like here then go check out the Hello Kitty Desk Fan.