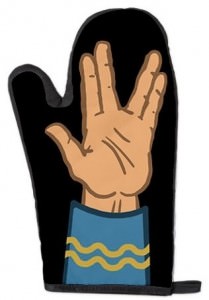 Trekkie fans and most of all Spock fans will absolutely love this unique and cool oven mitt, check it out.
Featured on this oven mitt is the hand of Spock from the hit sci fi series Star Trek, Spock's hand is in the Vulcan  salute position making it look like you are doing the Vulcan salute every time you put this oven mitt on.
The Spock Vulcan salute oven mitt measures: 6.5 inches at widest point and 12 inches in length, it is made to be very durable with a with heat resistant coating that is good for up to 420°F.
Spice up your cooking with the Star Trek Spock Vulcan Salute Oven Mitt.