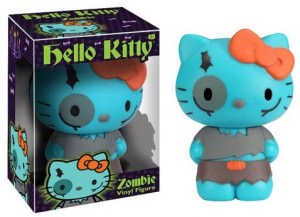 Sanrio made this is a really cool collectable for the Hello Kitty fan, but the really cool part is Hello Kitty is combined with a zombie.
This Hello Kitty figurine features all of the stylish attire that you would find on a Hello Kitty zombie, find a torn and tattered shirt and shorts as well as a black eye and forehead scar, and of course Hello Kitty zombie is still wearing a bow on her head.
The Hello Kitty zombie Pop! Vinyl look a like figurine measures 3 1/2 inches tall and comes in a window packaging display box so you can display and show off your Hello Kitty zombie without taking it out of the box.
Have a closer look at the Hello Kitty Zombie Figurine.