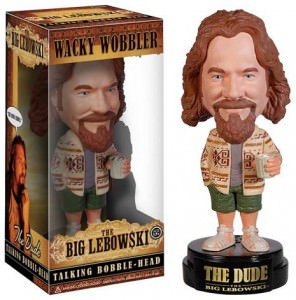 From the hilarious movie The Big Lebowski this is a talking booblehead that looks just like The Dude, with great attention to detail find The Dude in his shorts and sweater ready to recite phrases for you.
The Dude talking bobblhead stands 7 inches tall and come in window box packaging perfect to collect and show, The Dude says the following phrases:
"I'm 'The Dude,' so that's what you call me, ya know? Uh. That, or uh, 'His Dudeness', or uh, 'Duder', or uh, you know, 'El Duderino', if you're not into the whole brevity thing."
"Yeah. Well, you know, that's just like, uh, your opinion, man."
"The Dude abides."
"Hey, at least I'm housebroken."
"No, I DO mind. Uh. The Dude MINDS. This will not STAND, you know? This aggression will not stand, man."
Go check out this Big Lebowski The Dude Talking Bobblehead.