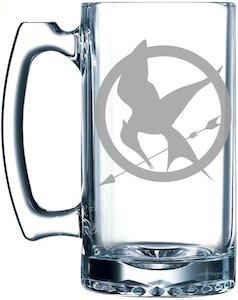 This glass beer stein is specially made for the true fans of the Hunger Games.
This 25oz glass has an etched logo of the Mockingjay pin on it.
And because it is etched on the glass you don't have to worry that it is gone peel off you can even just put the glass in the dishwasher as any normal glass in your kitchen.
Now you can enjoy a fresh cool drink from this amazing looking Hunger Games glass beer stein. And of course you can drink beer out of a beer stein but water or pop are fine to and because it's so big you need less refills to.
Come check out this The Hunger Games Mockingjay Logo Glass Beer Stein.