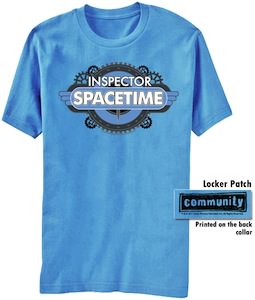 We Community watchers all know that Troy and Abed love to watch Inspector Spacetime and play it over in their dream room.
Now you can show the world that you know about the ins and outs from Community by just wearing this t-shirt with the Inspector Spacetime logo on it.
The shirt is availible in light blue and comes in a wide range of sizes starting at small going up to XX-Large.
And beside the front the t-shirt also has the Community logo printen on the back collar.
If you like Troy and Abed then you are gone love this Funny And Officially Licensed Shirts At The Community Inspector Spacetime T-Shirt.