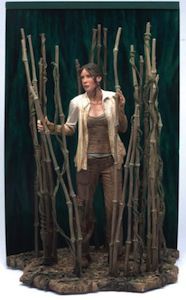 The Lost TV series maybe long over but still there are some great items you can lay your hands on.
This McFarlane figure of Kate Austen is one of those items that should not be missing in a Lost collection.
The figure of Kate is standing on a base surrounded by bamboo and other branches just like we all have seen on TV.
Besides that there is also a backdrop to make it all feel more real.
Kate is about 6 1/2 inches tall and the setting she is in is about 8 inch tall.
An item as this will be more difficult to find everyday that you wait and they are no longer made so don't wait.
Come and check out a closer look at this Lost Kate Austen Action Figure.