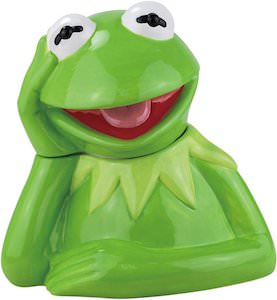 Kermit has been a part of peoples lives for a very long time. The early version of Kermit stared on TV in 1955 on Sam and Friends. Then he continued on over the years staring on a lot of shows. He became a real frog in 1971 in The Frog Prince.
Kermit had became most famous on the show Sesame Street and then even more famous in The Muppets show.
If you love Kermit the Frog and cookies. He will protect your cookies inside this Kermit shaped cookie jar.
This cookie jar is in the shape of Kermit in a sigh pose. It is also 10 1/4 inches tall in size. Lots of room for you most favorite cookies.
Grab you cookies out of this fun Kermit The Frog Cookie Jar.