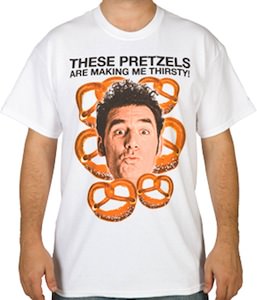 We all know that Kramer is a little bit different then most of us.
And this time is is going crazzy for some pretzels. Of course we all know what is gone happen and that is what we find on this t-shirt.
This white shirt has a picture of Cosmo Kramer's head surrounded by pretzels and the text "These Pretzels Are Making Me Thirsty!".
And that is all you need to have a funny t-shirt.
This 100% cottton t-shirt comes in an extra big range of adult sizes from small to 5xl.
So if like funny Seinfeld t-shirts then you have to get this Seinfeld Kramer These Pretzels Make Me Thirsty T-Shirt.