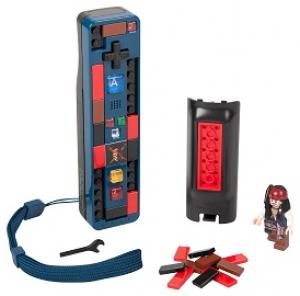 If you love the awesome series of Pirates of the Caribbean movies and you love Captain Jack Sparrow played by actor Johnny Depp then you will love this build, play and customizeable LEGO Nintendo Wii remote.
A Nintendo Wii controller that will make playing your LEGO Pirates of the Caribbean game a little more cool, included is 1 Wii Remote, Wrist Strap, 2 Battery Covers, Captain Jack Sparrow minifigure, 31 Mini LEGO tiles with LEGO Tile Separator Tool.
The Nintendo Wii remote controller is fully functional with all Nintendo Wii games it can also be used with other Wii accessories like the Wii Nunchuck controller and the Wii MotionPlus attachment.
Get into the game with the LEGO Pirates Of The Caribbean Nintendo Wii Remote.