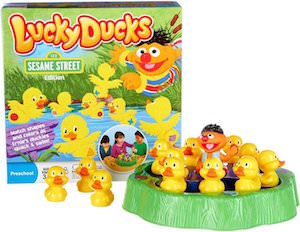 Kids and adults love games and instead of playing games on your phone or tablet lets have some fun with ducks and Ernie with this Lucky Ducks board game.
The game has a green base with a blue inside on witch ducks float and those ducks have shapes on the bottom of them. And then when you press Ernie the ducks start moving and quacking and then players take a duck and see if it matches their card and if not then put it back and the turn goes to a different player.
This Lucky Ducks Sesame Street Edition is just super cute with ducks making their sounds and Ernie sitting in the middle watching it all.
Add a fun game to your collection and start playing this Lucky Ducks Sesame Street Edition Board Game.