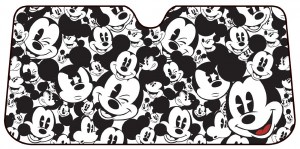 Disney's Mickey Mouse is everyone's favorite mouse and now he can adorn your vehicle while keeping it cool on a hot summer day and protect the dash from fading by blocking UV rays.
The heavy duty windshield sun shade is covered with black and white images of Mickey's face showing different expressions, and there is one face in the corner that shows his red tongue.
This sun shade by Plasticor measures 57" x 28" and will fit most cars, trucks and vans, and it folds up like an accordion for easy storage. There is even an elastic to keep it neat when not in use.
Get a close look at the Disney Mickey Mouse Car Sun Shade.