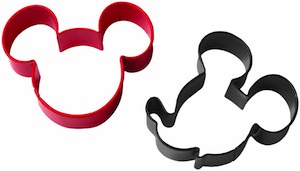 What goes best in a Mickey Mouse cookie jar?
Yes Mickey Mouse cookies and they are best if you bake them yourself.
This set of two cookie cutters will help you with that as they are both Mickey Mouse faces.
One is the famous one with the two ears (witch could be Minnie Mouse to) and one from the side.
And as these cutters are made by Wilton you know that they will last.
The cutters are made from coated metal to keep them in perfect condition.
So if you need Mickey cookies then you have to order this set of Disney Mickey Mouse Cookie Cutters.