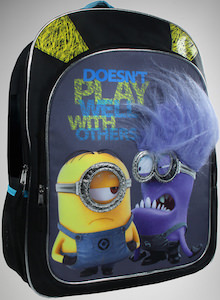 Are you a big fan of the Minions from Despicable Me?
If so then of course you want a Minion backpack that is great for school, play or even work.
This backpack is black with some yellow details and on the front a picture of a yellow Minion that does not look to happy and beside it an evil purple Minion and this one actually has hair that sticks out of the backpack so that you can touch it. Above those to Minion's it says "Doesn't play well with others" and I guess its about the evil Minion and not about you.
The backpack is 18 x 14 x 5 inch and that means it is pretty big and perfect for school.
So if you need a new backpack and like Minions that have an attitude then maybe something like this could work.